Jim Owen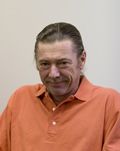 Sr. Press Operator
I've been in the printing industry for over 16 years and have been in my present position since 1995. I've worked for Quik Print in a variety of locations, ranging from Anchorage, Alaska to
West Palm Beech, Florida.
For fun, I enjoy fishing, hunting, camping and gardening. I have recently bought some chickens, after a few years without them, and really enjoy raising them.
My son and I enjoy repairing old cars and trucks on the farm.